Why choose EmBIO in Athens, Greece
Premium Fertility Services since 1996
Selecting the right people to accompany you on the journey to motherhood is an important factor of success in assisted reproduction.
The EmBIO Fertility Center of Athens has been a leading fertility clinic in Europe for almost 30 years.
Having one of the highest success rates in the world, we've helped create families and fulfil dreams worldwide with over 30,000 happy, healthy births.
EmBIO IVF's new headquarters offers fertility patients a comprehensive treatment approach that combines advanced fertility services with scientifically valid complementary modalities.
The facility features state-of-the-art surgical and medical facilities, private consultation areas, and inviting open spaces. The building has a total area of 3000 m2 and uses the most modern and safest technology available today for infertility treatments. All equipment and software have been designed to meet functional requirements and the strictest European regulations.
Thanks to the modern standards and the commitment of the doctors and the entire staff, the Embryo IVF Centre in Greece is characterised by a very high success rate and many positive comments from thousands of women from Greece and abroad who have become mothers after IVF treatment.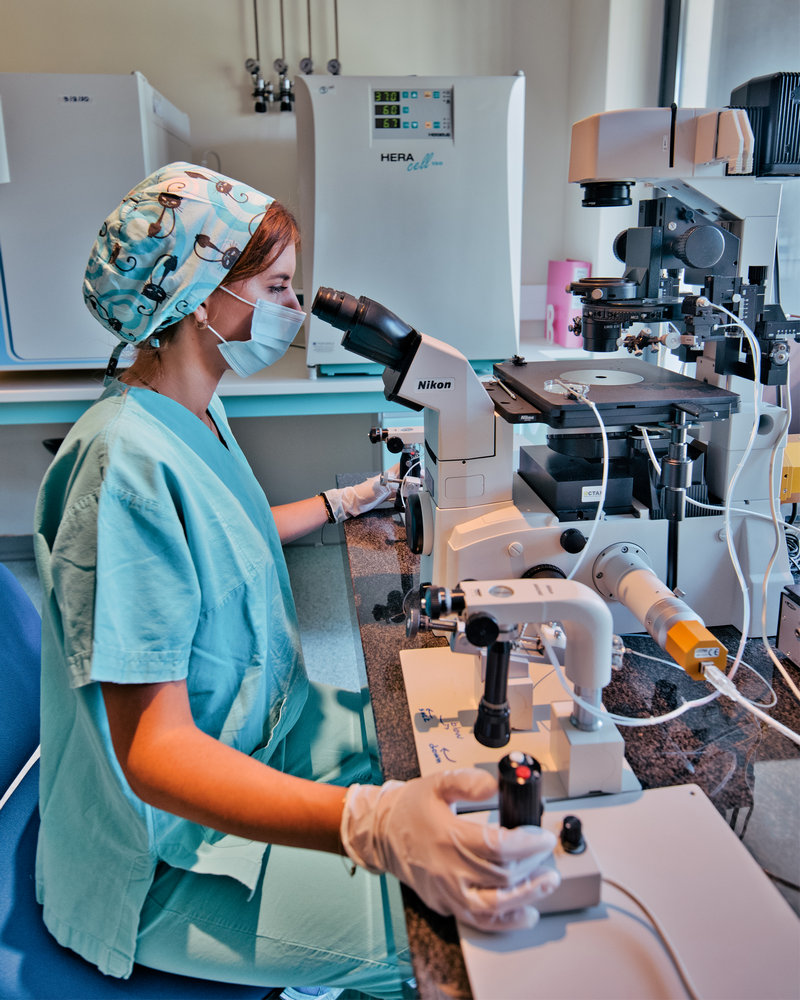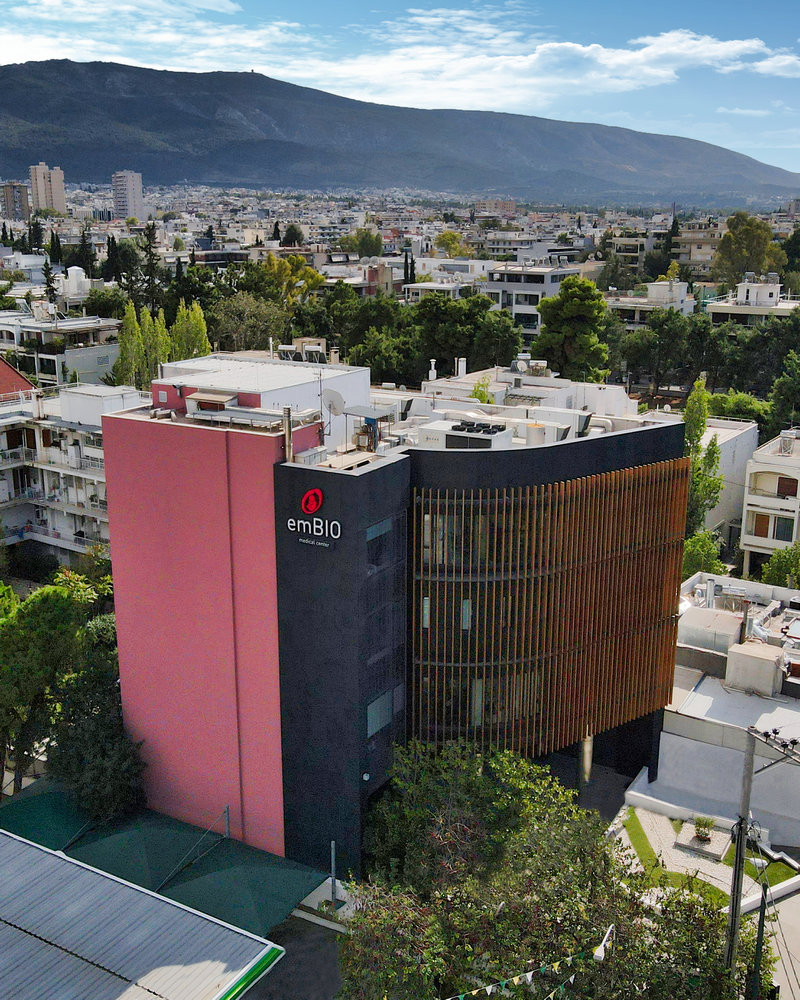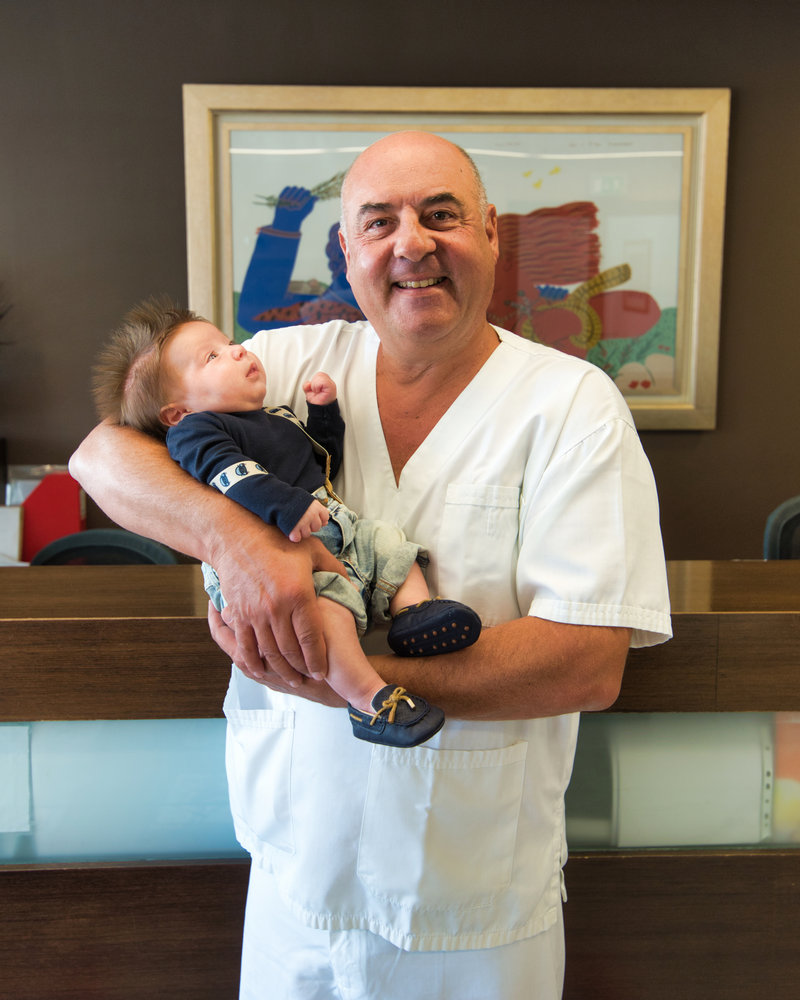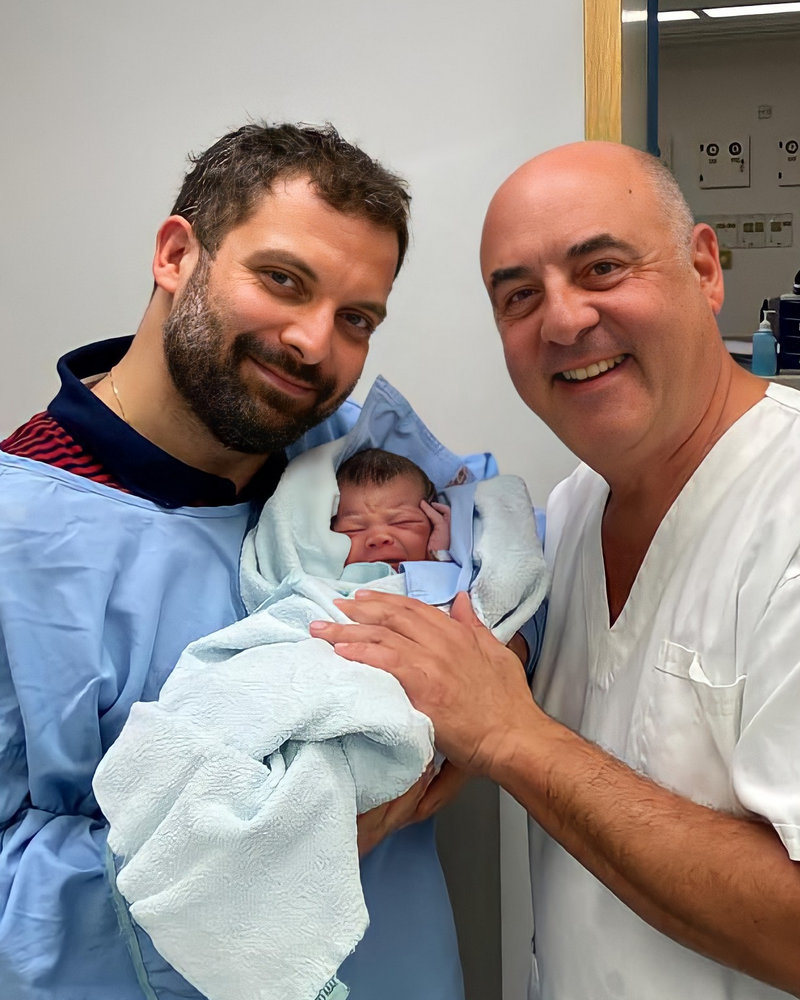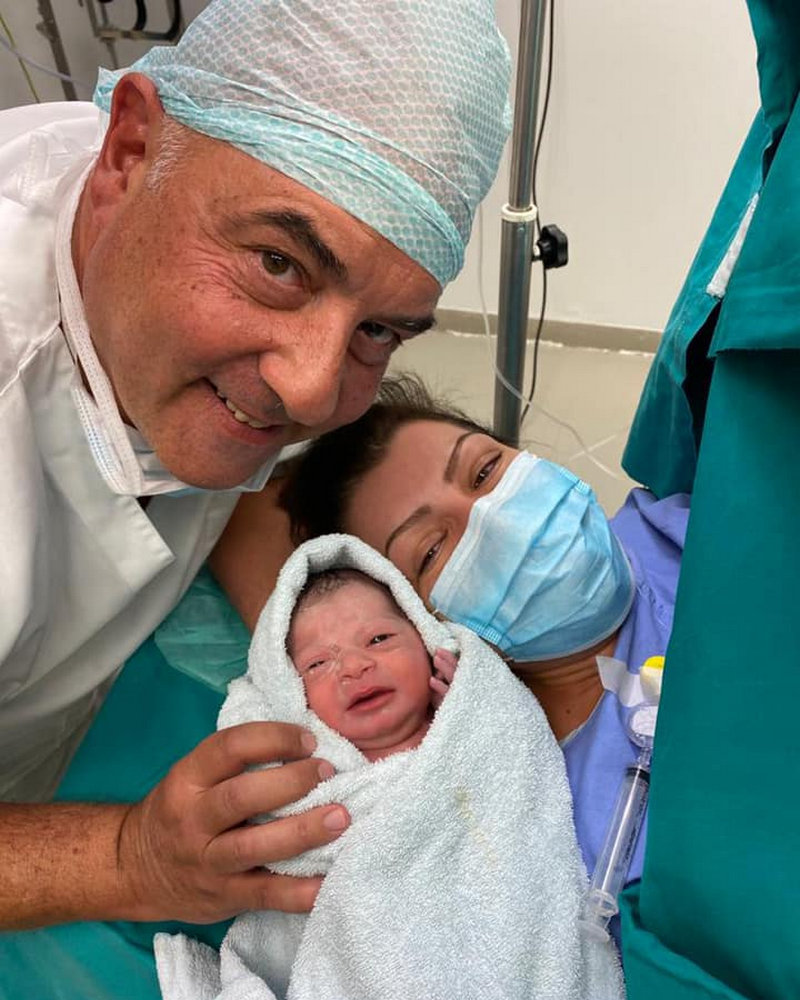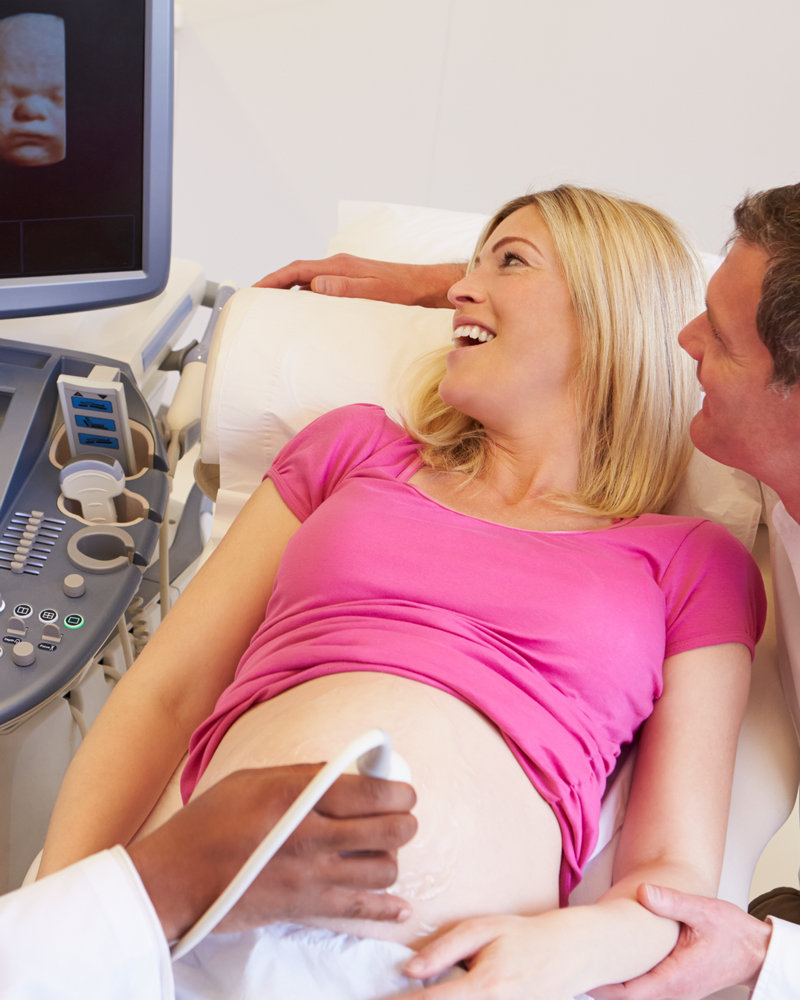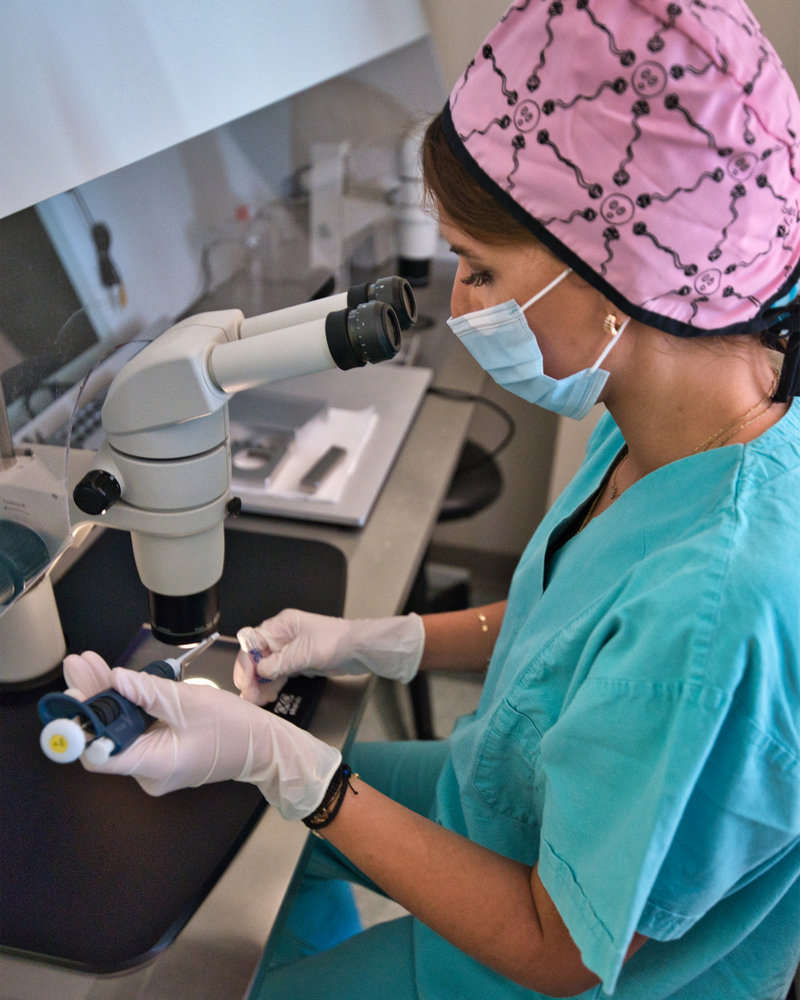 ---
Top 10 Reasons to choose Embio for your Infertility Treatment
1. Embio IVF Center is acknowledged as one of Europe's most experienced and successful fertility centers. Since 1996 it has helped more than 30,000 babies to be conceived, with pregnancy success rates approaching 78% in specific patient groups.
2. We successfully treat cases of female infertility other fertility centers won't even consider (PCOS, advanced age etc).
3. We provide the most effective male fertility treatments to solve all kinds of sperm problems.
4. We continuously improve our IVF success rates expertly using the most advanced assisted reproduction techniques, such as Pre-implantation Genetic Diagnosis (PGD / PGS).
5. Embio's reliable egg donation programs and sperm bank are constantly at your disposal, with no waiting list.
6. Our international patients may start their IVF treatment at Embio spending just a few days in Greece. Afterwards, they can be monitored by their gynaecologist-obstetrician in collaboration with EmBIO's fertility specialists.
7. EmBIO boasts one of the largest teams of board-certified reproductive gynaecologists and embryologists, led by fertility expert Dr Thanos Paraschos.
8. Each patient at EmBIO receives individualized fertility treatment enhancing her chance of getting pregnant.
9. EmBIO boasts the first donor egg pregnancy, the first IVM-vitrification, and the first birth from a frozen egg in Greece.
10. You'll have the best chances at IVF success even on your first try, thanks to our world-class IVF laboratory and our research program on the cutting edge of reproductive technologies.
Book a Free Online Consultation with Dr Thanos Paraschos and his team
---
Fertility Specialists
Comfortable, luxurious rooms and modern facilities... None of this would matter if it weren't for Embio's large and experienced medical team.  
Patients at Embio IVF work with one team of caregivers, which allows us to develop personal relationships based on communication and trust - the foundation of quality care.
---
Individualized Fertility Treatment
At EmBIO IVF, we respect each patient as an individual. So when it comes to helping you become a parent, we take a personal approach. From the moment you begin with EmBIO IVF, we tailor our evaluations and services to your needs. We call it your Signature Success. It's part of the personal attention that creates the best fertility experience.
Highest Implantation Potential Embryos
EmBIO IVF has been performing an embryo grading procedure to identify and transfer embryos with the Highest Implantation Potential (H.I.P.).
Our data shows that:
Patients receiving at least one H.I.P. embryo with their transfer significantly increase their ongoing pregnancy and implantation rates.
The presence of two H.I.P. embryos within the transfer cohort is sufficient to ensure satisfactory pregnancy rates.
Results using H.I.P. embryo criteria support the importance of this technique for embryo selection.
The clinical pregnancy rate per transfer for selected groups is:
Infertility Patients Under 35 Years Old: 63% Pregnancy Rate with own eggs
First IVF cycle
More than 8 mature eggs
Transfer 2 H.I.P. embryos
Infertility Patients 35-37 Years Old: 55% Pregnancy Rate with own eggs
First IVF cycle
More than 8 mature eggs
Transfer 2 or more highest implantation potential embryos
Pregnancy Profile
EmBIO IVF is known for taking on complicated cases that many fertility centers can't or won't consider. We believe every patient deserves a chance to build a family. Average success rates lack value since many factors influence the prospects for a successful pregnancy—age, health, and previous fertility treatments. We provide detailed information about the treatment paths and our success rates with patients in similar circumstances. It's your Signature Success Profile.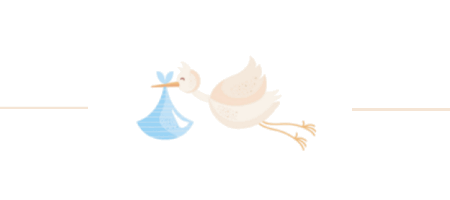 Fertility Care Team
We have created a Care Team approach to ensure you receive the highest quality, personal medical attention. You'll have a chance to develop a personal relationship with your doctor, nurses, and counsellor. And you can be confident that they are supported behind the scenes by scientific specialists in embryology, cryobiology and andrology.
Success Stories
We'd like to express our sincere gratitude to our patients who shared their IVF experiences.
Since 1996, Embio IVF has been conducting ground-breaking research that has contributed to improved assisted reproductive technologies and fertility treatments. Patients at EmBIO IVF benefit from entrusting their fertility treatments to the fertility experts who conducted these studies.
---
At Embio IVF, we feel that our patients must receive the highest quality care available. Therefore, we set quality standards and measure our success. In addition to being a fully accredited center, Embio IVF has the unique distinction of being one of the first fertility providers in Greece to become certified to ISO 9001:2000 standards. During a year-long process initiated in 2005, the entire clinical, laboratory and administrative staff diligently examined every process, procedure, document and record that affects how we provide patient care.
The underlying theory of ISO 9001:2000 is that the higher the quality of an organisation, the more satisfied the patients will be. The ISO standard addresses this in two ways.
ISO requires that organisations measure patient satisfaction directly, using the proper survey. As patient feedback is received, the organisation can respond to changes that patients require.
The organisation becomes more efficient by implementing the ISO standard. This efficiency enables the organisation to respond better to patient demands and expectations.
The ISO 9001:2000 standard provides guidelines to achieve the quality that tens of thousands of organisations have successfully utilised worldwide.
---
Care for International Patients
Couples from all corners of the globe travel to EmBIO IVF Center in Athens to achieve the dream of building a family.
As one of Europe's most experienced and largest IVF centers (with more than 30,000 babies born since 1996), our staff is committed to delivering world-class care to international patients. And through our long-standing affiliation with several universities, we are always on the cutting-edge of emerging technologies making us the top-tier provider of advanced fertility care.
Through a combination of appointments, phone and online consultations, international patients can meet with our renowned fertility specialists. We provide a variety of fertility therapies, including:
IVF
IVF with egg donation and/or sperm donation
PRP Ovarian Rejuvenation
LGBTQ+ fertility
IUI - natural cycle IVF
Genetic screening (PGS & PGD)
Sex selection
Egg freezing
Length of stay in Athens, Greece
We will help you to coordinate all the necessary testing with the help of your doctor at home. In such a way, we can reduce a patient's stay in Athens for an IVF treatment. Usually, a trip to our clinic lasts approximately two weeks.
Our Concierge Services
Located just a few miles from Athens' airport, EmBIO IVF will assist in securing reservations at a nearby hotel. Feel free to inquire about our international travel package, including discounted rates at local hotels.
Our new-patient clinical liaison has assisted all international and local patients with their treatment options, accommodation, and translator services if necessary. Her name is Mrs Sevi Lama, and she looks forward to assisting you with a most convenient and relaxed stay.
If you're ready to begin the process of building your family and book your accommodation, we invite you to connect with us by calling Sevi Lama at +30 6983193113 (also available on WhatsApp and Viber).
The City of Athens
During your stay, you will have the opportunity to tour the leading city of Ancient Greece, Athens. Rich in history, culture, and countless five-star restaurants, Athens is renowned as a "must-see" vacation destination. Your hotel concierge can assist you in experiencing what our great city offers.
LGBQT+ Care
Individuals and couples of any sexual orientation and all make-ups have the right to build a family, just as children deserve to share a loving home with loving parents. In our center, we embrace all members of the LGBTQ+ community and invite them to enjoy open access to all fertility treatments.
---
Based on our experience, which originates from dealing with at least 2.000 cases annually, we can understand the needs of couples facing infertility problems completely.
It is also important that the ultrasound follow-up can be performed in almost every city by experienced collaborators via direct electronic transport of the results to us.
In a private centre of 3.000 m2 in total surface, our unit uses the most modern and safe technology, exclusively regarding health care.
In a hospitable and friendly environment, people come to us, and they feel right from their first visit that they will find a solution to their problem. Our greatest satisfaction is the smile of those referred to us who go on to continue their lives, having conquered their desired objective.
The comfortable space, in terms of simplicity and luxury, creates a pleasant atmosphere that completely differs from the aesthetics of a regular clinic. The doctors' and personnel offices are fully equipped and open to inform the public, from the unit's obstetricians and embryologists at all the stages of the IVF process.
On the 1st floor of the unit, five autonomous examination rooms with the latest generation ultrasonographs allow for automatic data recording and processing in the functional program. The follow-up for the IVF process and gestation is performed step by step, whilst all the data is stored regarding the patient's medical file.
The blood collection unit, which functions on the same floor, is also autonomous and completely equipped. The resuscitation process is performed in a special hall near the operation rooms under full cardiopulmonary support and always under a follow-up by anesthesiologists. Consequently, each bed has autonomy, including separate benefits for each patient. The unit has four autonomous modern operation rooms that are supported by correspondent last generation anesthesiology instruments accompanied by the required equipment, according to the most modern international requirements and specifications. The operation rooms are equipped with special headlights and beds with the electric ability to incline and change position. All the surgical benches are invested with the special antimicrobial coating Corian. This inert material does not release toxic substances to the ova and the fetuses. The unit is served in parallel by two lifts, one accessible to disabled individuals.
The embryology laboratory: The laboratory has 17 incubation ovens, two micro-fertilisation microscopes, seven analytic microscopes, four filamental flow chambers, and three booths for sperm collection, while it is simultaneously supported by a special mechanism that produces quality sterile air under A-class Positive pressure. All the benches are also invested with a special antimicrobial coating - Corian. It also has osmometers, Ph-meters, centrifuge, precision scales, and special refrigerators for the maintenance, freezing and storage of the sperm, the frozen ova and the fetuses. A particular air filtration system ensures the proper laboratory conditions that minimise noise and vibrations. It is essential to note that a complete coding system of instruments, samples and disposable materials is kept for the appropriate organisation and operation of our unit system. Information, images and data are gathered and stored in a secure central database to be processed later. All files are copied to the main database and recorded on a DVD for safety reasons, always under medical confidentiality.
The embryology laboratory has super modern micro-fertilisation microscopes that provide a high definition and resolution image. All the tools, procedures, images and observations are recorded, providing a complete in-vitro background of the ova and fetuses. The filamental flow booths ensure constant temperature and control of the environmental conditions, while even the placement of the microscope on a special anti-vibration table is of special importance since, in this way, the ideal conditions for microfertilization are achieved. Our unit's equipment and software have been designed to comply with the existing and suggested functional requirements proposed by the relative European directive. Our laboratory equipment allows our embryologists to work effectively in a pleasant work environment where the control of the function is easily performed, and the ergonomic equipment constitutes a fundamental concern. The IVF laboratory and the operation rooms are supported by a special mechanism that produces quality sterilised air under positive pressure.
Our building receives complimentary electricity from a generator with its own electric current substation and special electric systems for timely information regarding problems. The electronic storage of the results is supported by our software [00:07:45] and by the most modern computer and statistics systems that major units in Europe and America use. It also has a special room for the sterilisation and storage of disposable medical material, as well as a special room for medical gas cylinders. In the sterilisation chamber are 3 liquid sterilisation ovens, a dry sterilisation oven, and a special liquid for sterilising the hysteroscopy and laparoscopy telescopes and tools.
The entire building group complies with essential studies. It bears the relative equipment anticipated by the legislation for fire safety and the safety from gas leakage. Fire-extinguishing and automatic warning systems can be found on our unit's floors and comply with European guidelines.
Besides the IVF procedure, our unit also operates in the breast cancer diagnosis field. On the ground floor of the building, an autonomous breast department with a last-generation digital mammography unit also functions.
The examinations are performed either by high-resolution ultrasounds, low-dose digital mammography or breast elastography, a new ultrasound technique that allows the differentiation of a benign module from suspicious or malignancy lesions by counting its elasticity. The biopsy of small size non-palpable lesions is performed either by surgically localising the lesion with a wire pointer or by a fine needle aspiration (F.N.A.) biopsy using a mammotome under the guidance of a mammography unit to avoid total anaesthesia.
The unit's lecture theatre is located in a specially designed area on the 4th floor of the building. Here the doctors and personnel can discuss patient cases and be informed about subjects regarding medical developments in the IVF field with the help of a special monitor and under the support of a system of electric image transport. Meetings and teleconferences with other centres and foreign scientists occur on the same floor. It is also worth noting that for the convenience of the couples visiting our unit, floors -2 and -3 include 70 parking places.