---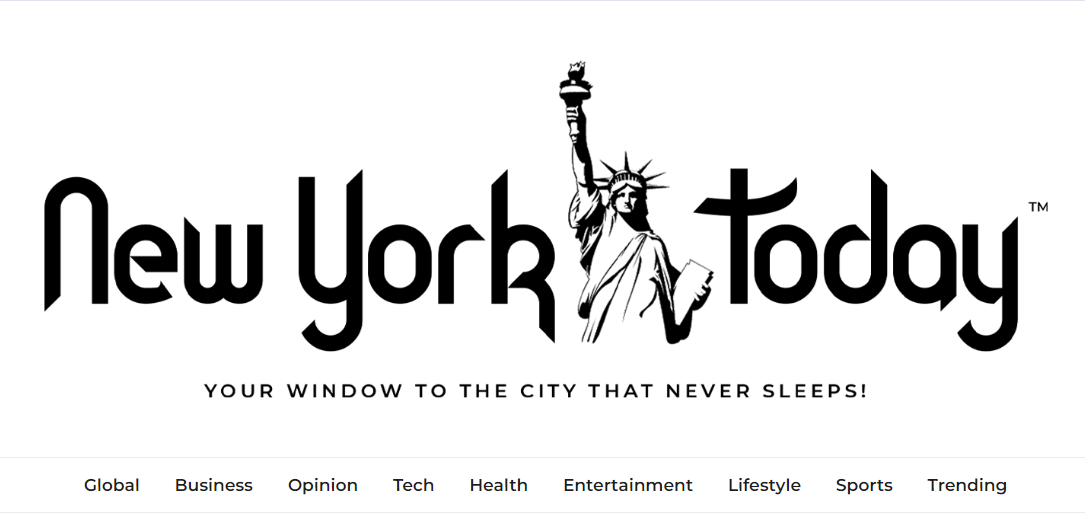 An Affordable Journey to Motherhood: Exploring low-cost IVF treatments in Greece for women up to age 54
Dr Thanos Paraschos, the renowned Greek fertility specialist, recently spoke to thenewyorktoday.com about the growing trend of international patients from the US, Northern Europe and Asia choosing Greece for its many fertility treatment advantages. 
The high cost of In Vitro Fertilisation (IVF) treatments in the US has led many to explore options abroad, with Greece emerging as a popular destination due to its quality of care, high success rates and cost-effectiveness. Dr Paraschos attributes their success to advanced technologies, personalised care and adherence to strict health regulations. 
The clinic serves a diverse patient base, including couples, single women and the LGBTQ+ community. Recent legislation in Greece extends the age limit for women undergoing IVF treatment to 54 years, further widening access to reproductive healthcare.
The cost of IVF with egg donation at EmBIO IVF is much lower than the average cost of fertility treatment in the US, while the success rate of 78% is considered one of the highest in the world. The tranquil and culturally rich environment of Greece adds to the overall positive patient experience.
Image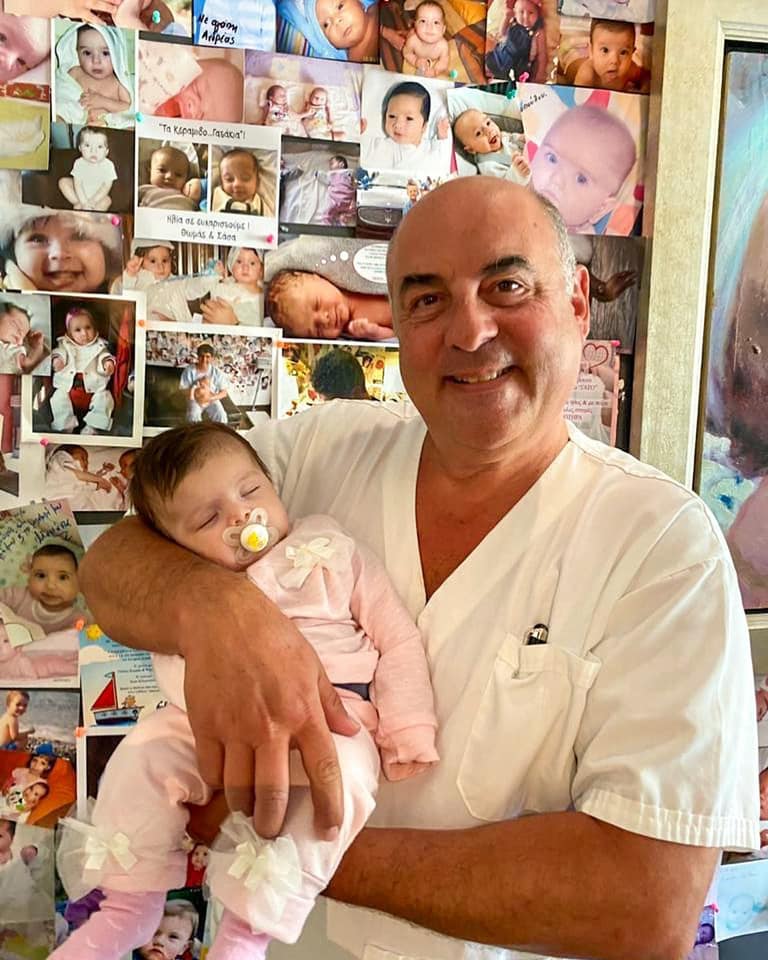 ---
Fertility Care Award 2023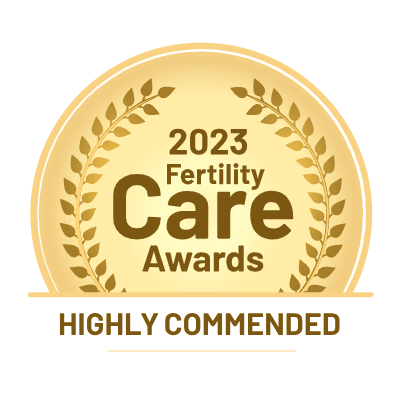 Embio IVF Clinic has been honoured with the prestigious Fertility Care Award for its exceptional service to women seeking fertility treatment abroad. This recognition highlights Embio's unwavering commitment to excellence in reproductive healthcare and its dedication to helping couples realise their dreams of building a family.
The Fertility Care Awards recognise organisations and professionals who have made a significant contribution to the field of fertility care and who have demonstrated an exceptional commitment to providing compassionate, innovative and effective treatments to those struggling with infertility.
Dr Thanos Paraschos, the esteemed Medical Director of Embio IVF Clinic, expressed his gratitude for receiving this prestigious award. "We are deeply honoured to be recognised by the Fertility Care Awards for our commitment to women seeking fertility treatment in Greece. At Embio, we are driven by a passion to provide cutting-edge care, personalised attention and the highest chances of success to all our patients, regardless of their geographic location."
The Fertility Care Awards 2023 not only recognise the remarkable achievements of Embio IVF Clinic, but also serve as a testament to the clinic's vision of making infertility treatment accessible and effective for individuals from around the world. This esteemed recognition further solidifies Embio's position as a trusted destination for international patients seeking world-class fertility treatment.
As Embio IVF Clinic continues to push the boundaries of reproductive medicine, it remains committed to advancing scientific research, pioneering ground-breaking techniques and providing unwavering support to individuals and couples on their journey to parenthood. The Fertility Care Awards 2023 reaffirm Embio's commitment to excellence and reassure patients that they are in the best possible hands as they pursue their dream of having a child.
---
The Twins of Prime Minister Kostas Karamanlis
Thanos Paraschos, a specialised obstetrician-gynecologist and fertility expert, closely monitored the pregnancy of the twins of Prime Minister Kostas Karamanlis and Natasa Pazaitis from the start to the finish of their arrival.
In the early hours of June 12, 2003, at the Iaso Maternity Hospital, the couple welcomed their precious babies into the world, a girl weighing 2,470 kg and a boy weighing 2,450 kg, delivered by caesarean section.
Overjoyed with the safe delivery, the two parents expressed their gratitude and publicly acknowledged Dr Paraschos' excellent care and support throughout the pregnancy and delivery.
Dr Paraschos is well-known for his exceptional medical education alongside the pioneers in IVF medicine, his extensive experience and his caring approach to his patients. His dedication to ensuring the good health of both mother and child is commendable.
Dr Paraschos expressed his happiness with the successful delivery and explained that in this particular case, a caesarean section was deemed necessary to avert complications.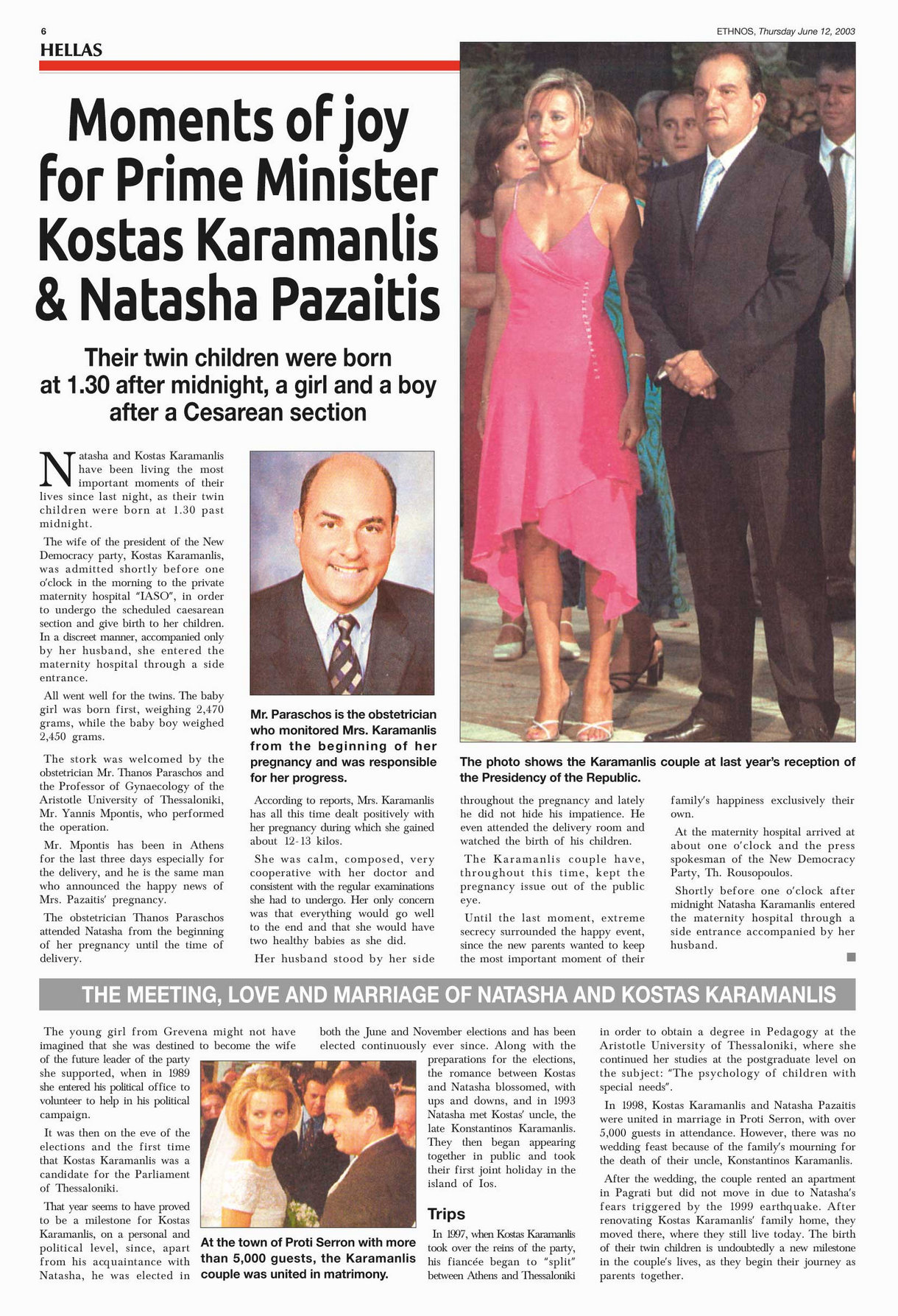 ---
Why Greece is Becoming a Top Destination for IVF: In Conversation With Dr. Paraschos
In a recent interview with lincolncitizen.com, Dr Thanos Paraschos answered journalists' questions about how Greece has become an international destination for fertility treatment.
Greece is a beautiful country with picturesque islands, an excellent climate and beautiful beaches, offering the opportunity to combine a holiday with fertility treatment.
He emphasised that Greek IVF clinics, such as EmBIO, offer personalised care and support, ensuring that each couple receives tailored treatment plans and compassionate guidance. 
Looking to the future, Dr Paraschos believes that Greece will continue to grow as a leading destination for IVF treatment through innovation, research, personalised care and a focus on patient welfare.
Image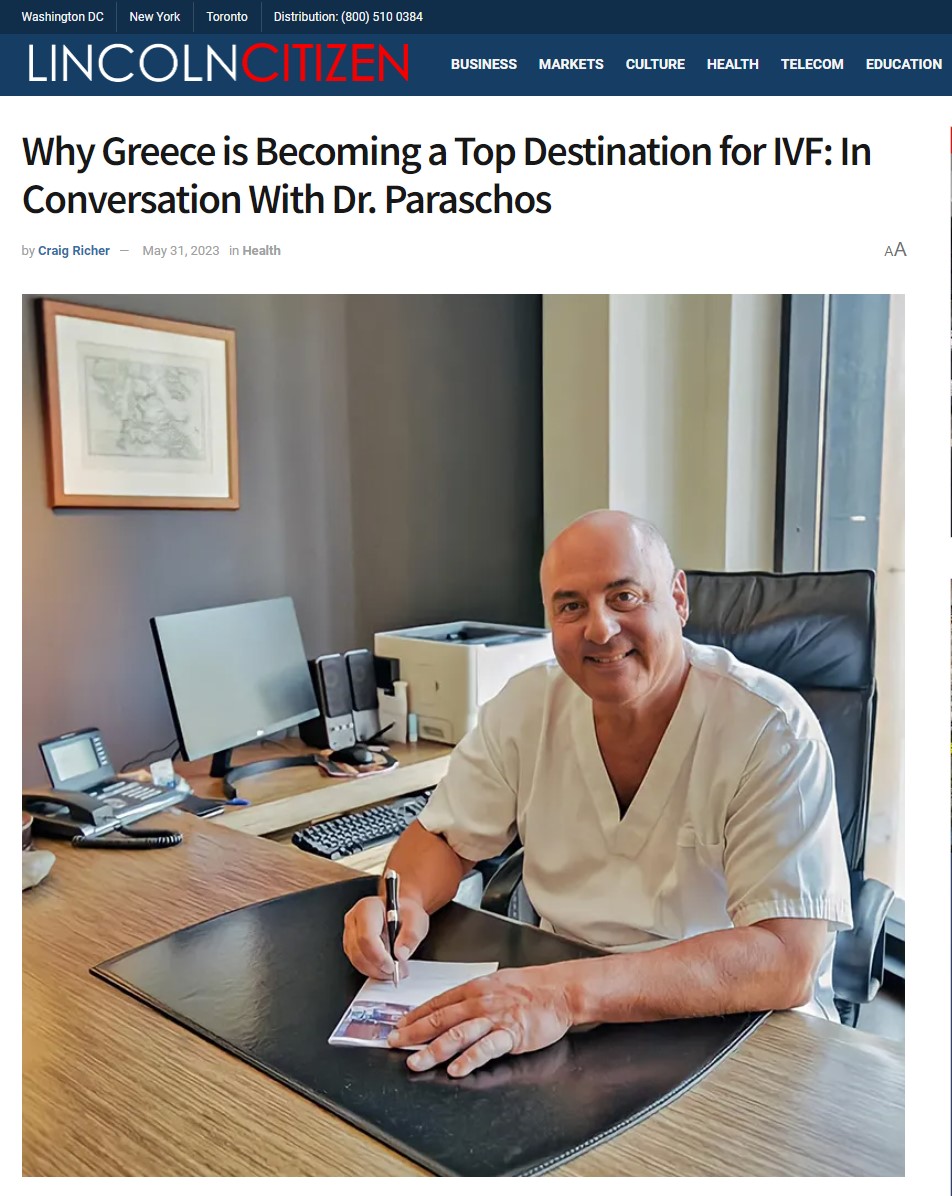 ---
Patients' Choice Award for 2023
EmBIO IVF Clinic in Greece is proud to announce that it has been selected as a recipient of the prestigious Patients' Choice Award for 2023. This award recognises healthcare facilities that provide outstanding customer service and a positive medical tourism experience for patients seeking treatment abroad.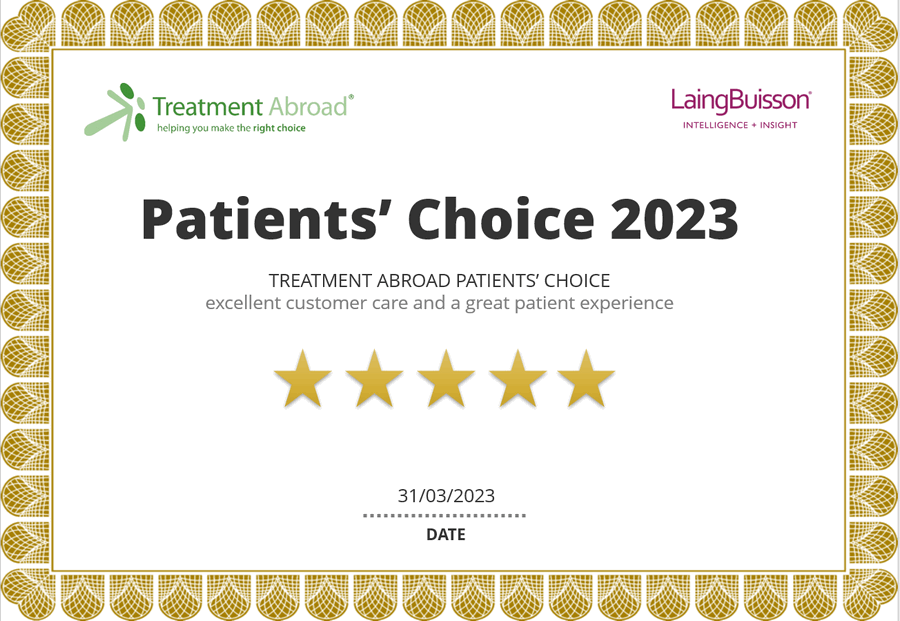 To qualify for this award, healthcare facilities must receive an overall patient rating of 4.5 or higher out of 5 on Treatment Abroad. Only eleven hospitals and clinics from around the world will receive this award in 2023, making it a truly exclusive honour.
"We are thrilled to receive the Patients' Choice Award for 2023," said Dr Thanos Paraschos, Medical Director of EmBIO IVF Clinic. "This award is a testament to our team's hard work and dedication to providing the highest level of care and customer service to our patients. We are proud to be recognised for our commitment to patient satisfaction."
EmBIO IVF Clinic has been providing advanced fertility treatments to patients from all over the world since 1997. With state-of-the-art facilities and a highly trained team of medical professionals, the clinic has earned a reputation for excellence in the field of reproductive medicine.
Patients who choose EmBIO IVF Clinic can expect personalised care and attention, advanced treatment options, and a supportive and compassionate environment. The clinic's commitment to patient satisfaction has earned it this prestigious award, and it will continue to strive for excellence in the years to come.
---
Greek IVF Medical Center nominated for a Worldwide Distinction
International recognition for the ground-breaking work of Greek gynaecologists in the field of assisted reproduction is the nomination of Embio Medical Center in a world medical tourism contest as the "Best IVF Clinic of the Year".
This nomination for Embio IVF Medical Center demonstrates the fact that Greece, regardless of its prolonged economic crisis, makes the difference and is a pioneer in assisted reproduction on an international scale.
IVF Embio Medical Center, under the leadership of its scientific director and gynaecologist Dr Thanos Paraschos, has exhibited a broad and innovative scientific work on a global scale over the years. It now claims the title of "Best IVF Clinic of the Year" in the cross-border reproductive care in an international contest taking place on May the 26th in Madrid.
The contest is organized in a different country on an annual basis by the internationally renowned Medical Tourism newspaper IMTJ, https://awards.imtj.com/. The competing clinics are thoroughly examined according to a series of criteria, while the judges' committee consists of important celebrities from all over the world. This is the first time that a Greek IVF Centre is nominated for such a distinction.
The choice of Embio as a contester was not random by far. Embio is an assisted reproduction medical centre that follows the most sophisticated protocols and applies all cutting-edge technologies both in terms of pre-implantation control as well as the procedures and the methods of In Vitro Fertilization (IVF), among which are IntraCytoplasmic Sperm Injection (ICSI) techniques involving sperm issues.
Embio also provides many alternatives such as natural cycle In Vitro and the opportunity of egg deep freeze using the vitrification method which ensures enhanced maintenance along with higher fertility rates as well as solutions for dealing with infertility problems for both genders, for example, endometriosis in women and azoospermia in men.
Special Distinction awarded to Embio IVF by IMTJ
---
Embio in the European Parliamentary Yearbook
A special reference to the Embio Fertility Center was made in a publication of the European Parliament, the European Parliamentary Yearbook:
GETTING PREGNANT EASIER IN GREECE
EmBIO Medical Center is one of the most experienced IVF centres in Europe, renowned for its high IVF success rates. Since 1996, EmBIO's infertility specialists have helped thousands of couples from all over the world to become parents.
Combining breakthrough assisted-reproduction technologies with personal, individualized treatment. EmBIO achieves pregnancy in more than 60 per cent of cases. Through its PGD/PGS options, problems of age and hereditary diseases are overcome and healthy infants are safely born.
Located just a few miles from Athens International Airport, EmBIO is a one-stop fertility clinic fully equipped with state-of-the-art laboratories, as well as diagnostic and surgery facilities supporting the full range of assisted-reproduction techniques. In the context of the remarkably high success rates achieved even on the first IVF try, fertility treatments at EmBIO are acknowledged as value for money.
British-trained fertility experts
EmBIO's UK-trained, highly specialized IVF scientists are led by obstetrician-gynaecologist and fertility expert Dr Thanos Paraschos, who has gained his IVF and PGD expertise working with Lord-Professor Robert Winston.
EmBIO's clinical director has been contributing to IVF research with a significant number of publications in peer-review journals. His invention of the Rigid Wallace Catheter is used worldwide for especially demanding embryo transfers.
Personalized Fertility Treatments
All assisted-reproduction techniques, cutting-edge or conventional, are provided at Em8I0 Medical Center according to each patient's thoroughly diagnosed fertility profile. Treating every patient as a parent-to-be.
EmBIO is committed to dealing with complicated cases other IVF centres will not even consider. Through a long-standing affiliation with several university hospitals, EmBIO Medical Center is constantly on the cutting-edge of emerging IVF treatments. Adeptly using the latest ART technologies, EmBIO boasts the first donor-egg pregnancy, the first IVM - vitrification and the first birth from a frozen egg in Greece.
Among the most popular fertility therapies and in-vitro fertilization techniques at EmBIO are:
Preimplantation Genetic Diagnosis (PGD/PGS)
Elective Oocyte Cryopreservation (Personal Egg Banking)
Intra-Cytoplasmic Sperm Injection (ICSI)
Microfertiliszation (IMSI)
Donor-Egg IVF (no waiting list)
Male Infertility Treatments
In Vitro Maturation (IVM)
Robotic-assisted Laparoscopic Myomectomy (removing fibroids)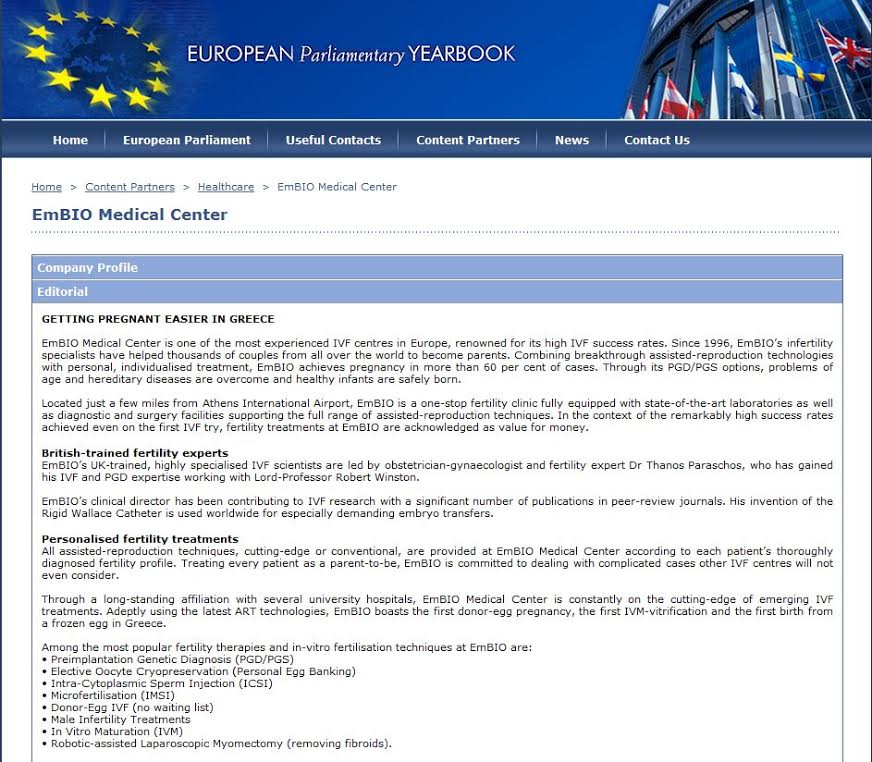 ---
IVF with Donor Eggs, The Observer