---
Greek IVF Medical Center nominated for a Worldwide Distinction
International recognition for the ground-breaking work of Greek gynaecologists in the field of assisted reproduction is the nomination of Embio Medical Center in a world medical tourism contest as the "Best IVF Clinic of the Year".
This nomination for Embio IVF Medical Center demonstrates the fact that Greece, regardless of its prolonged economic crisis, makes the difference and is a pioneer in assisted reproduction on an international scale.
IVF Embio Medical Center, under the leadership of its scientific director and gynaecologist Dr Thanos Paraschos, has exhibited a broad and innovative scientific work on a global scale over the years. It now claims the title of "Best IVF Clinic of the Year" in the cross-border reproductive care in an international contest taking place on May the 26th in Madrid.
The contest is organized in a different country on an annual basis by the internationally renowned Medical Tourism newspaper IMTJ, https://awards.imtj.com/. The competing clinics are thoroughly examined according to a series of criteria, while the judges' committee consists of important celebrities from all over the world. This is the first time that a Greek IVF Centre is nominated for such a distinction.
The choice of Embio as a contester was not random by far. Embio is an assisted reproduction medical centre that follows the most sophisticated protocols and applies all cutting-edge technologies both in terms of pre-implantation control as well as the procedures and the methods of In Vitro Fertilization (IVF), among which are IntraCytoplasmic Sperm Injection (ICSI) techniques involving sperm issues.
Embio also provides many alternatives such as natural cycle In Vitro and the opportunity of egg deep freeze using the vitrification method which ensures enhanced maintenance along with higher fertility rates as well as solutions for dealing with infertility problems for both genders, for example, endometriosis in women and azoospermia in men.
Special Distinction awarded to Embio IVF by IMTJ
---
Embio in the European Parliamentary Yearbook
A special reference to the Embio Fertility Center was made in a publication of the European Parliament, the European Parliamentary Yearbook:
GETTING PREGNANT EASIER IN GREECE
EmBIO Medical Center is one of the most experienced IVF centres in Europe, renowned for its high IVF success rates. Since 1996, EmBIO's infertility specialists have helped thousands of couples from all over the world to become parents.
Combining breakthrough assisted-reproduction technologies with personal, individualized treatment. EmBIO achieves pregnancy in more than 60 per cent of cases. Through its PGD/PGS options, problems of age and hereditary diseases are overcome and healthy infants are safely born.
Located just a few miles from Athens International Airport, EmBIO is a one-stop fertility clinic fully equipped with state-of-the-art laboratories, as well as diagnostic and surgery facilities supporting the full range of assisted-reproduction techniques. In the context of the remarkably high success rates achieved even on the first IVF try, fertility treatments at EmBIO are acknowledged as value for money.
British-trained fertility experts
EmBIO's UK-trained, highly specialized IVF scientists are led by obstetrician-gynaecologist and fertility expert Dr Thanos Paraschos, who has gained his IVF and PGD expertise working with Lord-Professor Robert Winston.
EmBIO's clinical director has been contributing to IVF research with a significant number of publications in peer-review journals. His invention of the Rigid Wallace Catheter is used worldwide for especially demanding embryo transfers.
Personalized Fertility Treatments
All assisted-reproduction techniques, cutting-edge or conventional, are provided at Em8I0 Medical Center according to each patient's thoroughly diagnosed fertility profile. Treating every patient as a parent-to-be.
EmBIO is committed to dealing with complicated cases other IVF centres will not even consider. Through a long-standing affiliation with several university hospitals, EmBIO Medical Center is constantly on the cutting-edge of emerging IVF treatments. Adeptly using the latest ART technologies, EmBIO boasts the first donor-egg pregnancy, the first IVM - vitrification and the first birth from a frozen egg in Greece.
Among the most popular fertility therapies and in-vitro fertilization techniques at EmBIO are:
Preimplantation Genetic Diagnosis (PGD/PGS)
Elective Oocyte Cryopreservation (Personal Egg Banking)
Intra-Cytoplasmic Sperm Injection (ICSI)
Microfertiliszation (IMSI)
Donor-Egg IVF (no waiting list)
Male Infertility Treatments
In Vitro Maturation (IVM)
Robotic-assisted Laparoscopic Myomectomy (removing fibroids)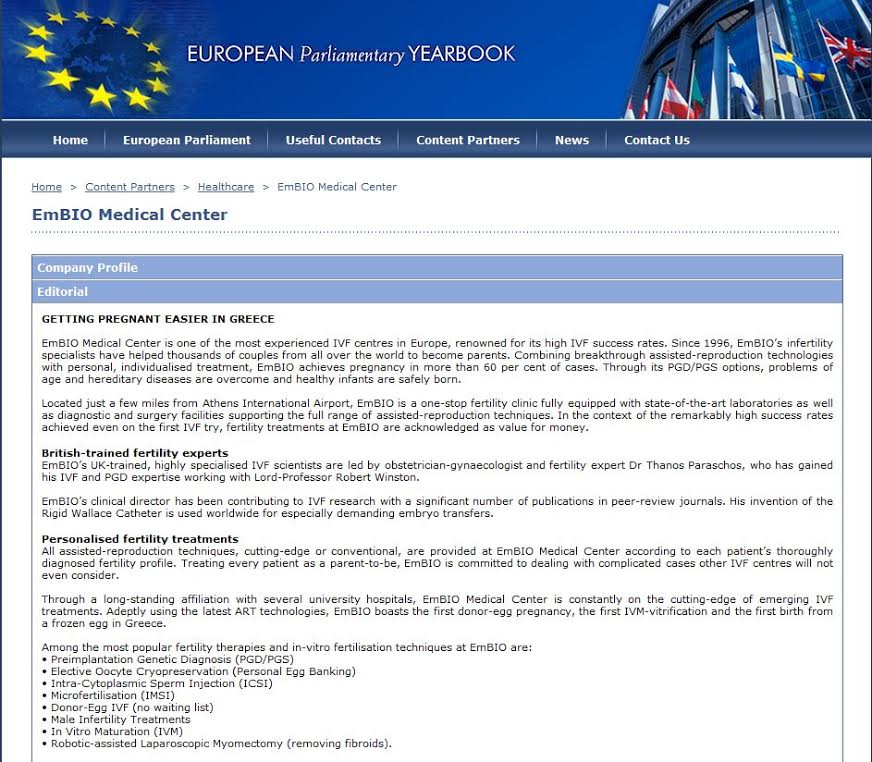 ---
IVF with Donor Eggs, The Observer