Today there are thousands of women who, for many different reasons need donor eggs in order to conceive. Egg donation is an anonymous procedure in which the donor provides oocytes to the receiving couple.
Donated eggs from volunteers are fertilized with sperm from the recipient's partner. After fertilization, the resulting embryos are transferred to the receiving patient following gestation.
Over one million children are estimated to be born worldwide as a result of egg donation each year, with 3,000 babies being born in the United States and 1,500 in England.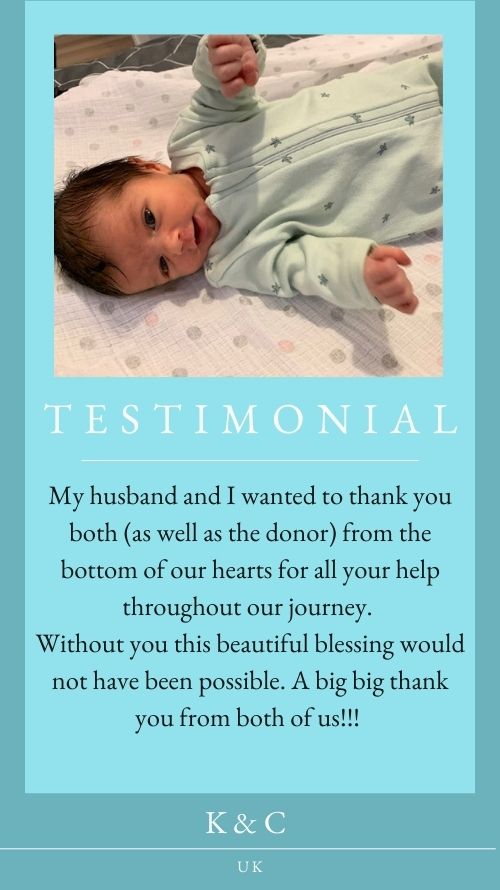 Egg Donation Abroad
Egg donation in Greece is a safe procedure for donors and recipient couples or single women.
Anonymity is a strict requirement in Greece and is strongly reinforced. General information about the donor's traits is available, but her identity is never disclosed. You will remain anonymous to the donor as well.
Greece has a notably high age limit for mothers of 50 years old, which is shortly scheduled to increase to 54 years old.
At EmBIO IVF Center in Athens, we are especially proud of:
our zero waiting time policy
the 30,000 babies born by IVF since 1996
our exceptional and highly trained fertility team
our reasonable prices that make egg donation an affordable treatment for anyone who needs it
Almost all countries in the world have direct flights to Athens. Flights, especially from Europe, last between 2-4 hours, making the journey quite simple and easy. 
A lengthy stay in Greece is not necessary for your treatment, and in the 2-5 days you will spend in Athens, you can get to know its ancient treasures as well as its modern beauties, enjoy the sun and the sea on its beaches, or travel to one of the lovely Aegean islands, such as the beautiful island of Tinos.
All the above reasons make EmBIO in Athens an ideal choice for IVF with egg donation abroad.
Perfect Match EmBIO
For patients who choose egg or sperm donation as part of their assisted reproductive treatment and want their child to resemble them or have specific characteristics such as height, eye and hair color, etc., our fertility center offers you the "Perfect Match EmΒΙΟ".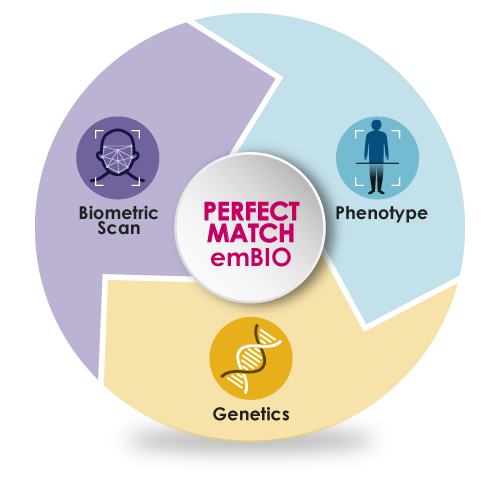 What is the advantage of using donor eggs
IVF with egg donation at EmBIO has the highest success rate, reaching 78% on the first attempt. The main reason is that eggs (oocytes) come from healthy, young donors.
It also allows for strong biological and / or developmental relationships within a family because donor eggs are fertilized with the male partner's sperm, matured to an early embryonic stage and then placed in the female partner's uterus, providing her the same gestational experience as natural conception.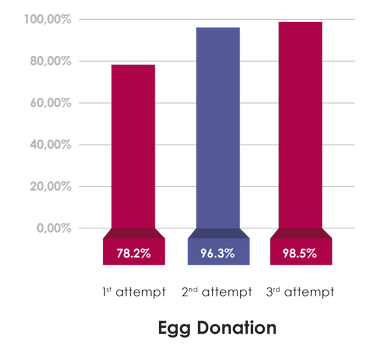 Donor egg IVF is an option for the following groups of women:
Α) Women who can't produce the essential eggs for conception:
Premature ovarian failure: Women born without or with under-developed ovaries.(e.g., Turner's Syndrome).
Women suffering from premature menopause. Most women go through menopause in their mid to late 40s or early 50s.
After menopause, a woman is no longer capable of conceiving because her ovaries stop producing eggs and sex hormones.
This, however, occurs much earlier to some women, even in their teens or early twenties, before they would even have contemplated starting a family.
This condition is called premature ovarian failure or premature menopause.
Ovarian damage following surgery, radiation or chemotherapy
Β) Women with active ovaries who need egg donation because:
carry an inheritable genetic disorder such as Duchenne Muscular Dystrophy or haemophilia. These diseases can be passed on to their offspring. Rather than risk giving birth to a child who might suffer greatly and die at an early age, some women choose to have a chance of an unaffected child by egg donation.
they repeatedly fail to respond to ovarian stimulation in an IVF programme Some women persistently produce poor quality eggs or embryos when stimulated. These ladies may improve their overall pregnancy chances with egg donation.
their own eggs repeatedly fail to fertilize in an IVF programme or their own embryos repeatedly fail to implant
they have a history of recurrent miscarriage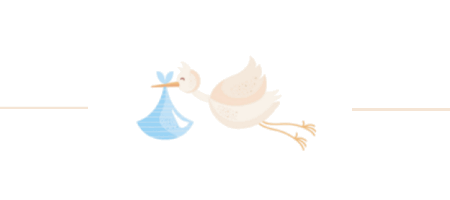 Egg donation without a waiting list
For women who need donor eggs, we have ensured that there is practically no waiting time for finding a suitable donor.
We run a range of donor egg programs designed to meet the needs of infertile couples, following the recommendations of the effective legislation. In any case, we are working to provide recipients with a matched donor through the highest medical care and treatment standards.
Notably, unlike other programs, we do not advertise, recruit or solicit egg donors. All donors in our program have located us as a result of their own diligence and research. You, therefore, can be assured that these women are mature, thoughtful, and have considered all the ramifications involved.
Embio IVF Center has a team of highly trained experts dedicated to assisting couples who are considering the use of donor eggs. They will work with the couple and explain what to expect during a donor egg cycle, how to select an egg donor, and how donors are screened.
Free Online Consultation with Dr Thanos Paraschos and his team
---
How can I be certain that the eggs I'm borrowing are good quality?
To become a female egg donor at the EmBIO egg bank, a woman must meet all of the following requirements:
Be between the ages of 19 and 35.
Have no personal or family history of genetic diseases.
Have a body mass index of less than 32.
Have an FSH level of less than 8.
Have both ovaries.
Also, all donors are thoroughly examined by a gynecologist and tested for chlamydia, cytomegalovirus, cystic fibrosis, hepatitis B and C, AIDS, karyotype, syphilis, and anemia.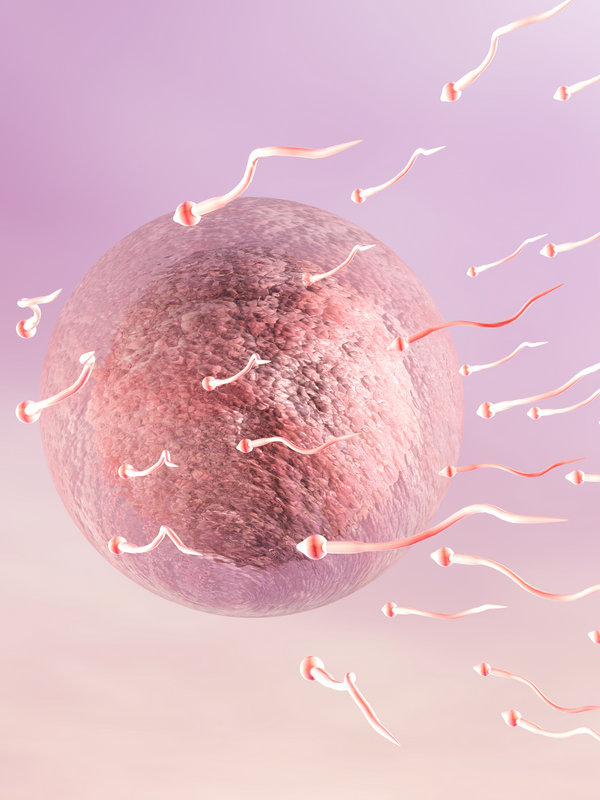 Is egg donation anonymous?
Yes, in accordance with current legislation.
Is there an age limit for IVF in Greece?
Currently, the age limit is 50 years old, but a new law is expected to raise it to 54 years of age.
Can I choose the traits of the donor to match my own?
You will choose the basic characteristics (hair, eye, skin color, height, etc.) of the donor and we will make sure to find the one that suits you best. Read more about choosing an egg donor.
How much does an IVF with egg donor cost?
At EmBIO, every effort is made to keep the price of each fertility therapy as reasonable as is humanly possible. The price of egg donation is shown here.
Can IVF be performed with embryo adaption or a surrogate mother?
Yes, embryo donation or embryo adaption is an option for couples or single women who require both donor sperm and eggs.
In vitro fertilization with a surrogate mother is also possible, i.e. when another woman undertakes to conceive the fetus of a couple and carry their child to term.
What is the procedure for IVF with egg donation?
The couple or the woman who will undergo IVF with donor eggs must choose the characteristics of the donor she wants. The EmBIO Fertility Team will coordinate donor and recipient cycles to achieve fresh embryo transfer whenever possible. The synchronization of the cycles involves the use of medication to create a welcoming environment in the recipient's endometrium which will facilitate the implantation of the embryos.
All mature eggs produced in a single cycle are fertilized with the sperm of the partner/spouse or sperm donor (if needed). If there are excess embryos after embryo transfer, embryo freezing is strongly recommended. Cryopreserved embryos can be used in subsequent IVF attempts, whether the result of the previous embryo transfer is successful or not.
The procedure in detail:
Contact a gynecologist who specializes in infertility treatments: Before joining an egg donation program, a thorough medical history should be recorded and very specific gynecological examinations should be performed.
Meeting with the program coordinator: The meeting involves filling out a particular form in which the couple lists the characteristics they would like the egg donor to have.
Counseling: If desired, with the aid of a professional the couple can discuss any potential social or psychological issues that may arise from such a process. Also, future parents have the opportunity to be informed about the needs and rights of the child who will be born from donor eggs and share thoughts and feelings on the subject.
Blood test: The blood tests performed depend on the IVF program followed by each couple. All programs routinely test the couple for measles, AIDS, hepatitis C, and B.
Sperm analysis: The test requires a two to three-day abstinence.
Uterine ultrasound examination and, if necessary, hysteroscopy or hysterosalpingography.
Administration of medication.
Completion of the necessary consent documents.
Schedule appointments: The doctor in charge will schedule your appointments in compliance with the specifications you are going to follow.
Donor selection: All egg donors at EMBIO are under 35 years old. The doctor in charge will take into account all the characteristics you are looking for in a donor and will proceed to choose the one who best fits those requirements. You will be informed about the characteristics of the selected donor and after acquiring your approval, the treatment will commence.
Treatment principle: Includes the preparation of the uterus to accept the embryos selected for embryo transfer.
Fertilization: This process involves the fertilisation of the donor's eggs with the sperm of the spouse or donor. After fertilization, you will be informed about the number of embryos that developed.
ICSI Microfertilization: It is a technique frequently employed when donor eggs are used. This is something that will be discussed and decided after the partner's sperm analysis.
Genetic testing for PGD: Following selection, the fertilised eggs are rigorously examined to look for chromosomal and DNA issues as well as the presence of inherited diseases.
Embryo transfer: Once you are notified of the number and quality of the embryos, your doctor and embryologists will suggest the number of embryos that need to be transferred to the uterus. It is important that both partners are present in this process. In the case of blastocyst transfer, a maximum of two are transferred. The embryos are placed in the uterus in a span of 15 minutes. After about an hour, you will be able to leave the clinic and resume your normal life. After 12 days, a blood test will be performed to detect pregnancy.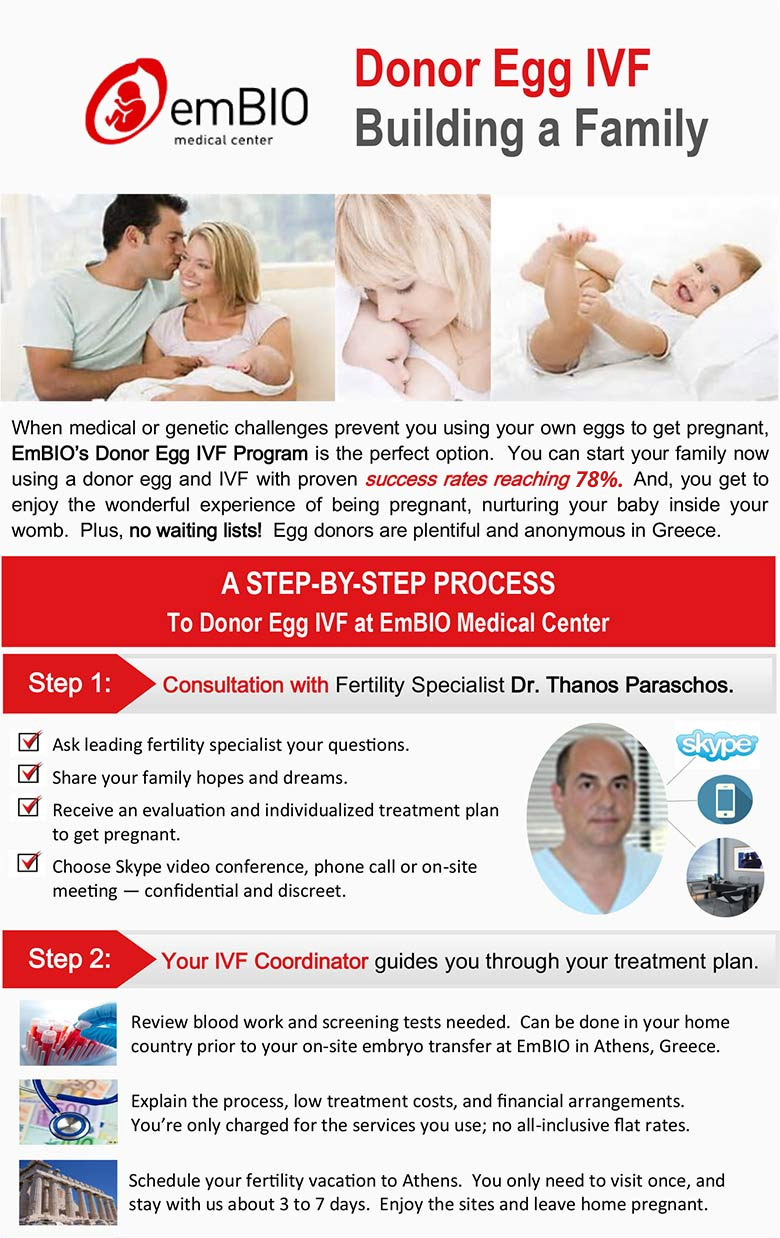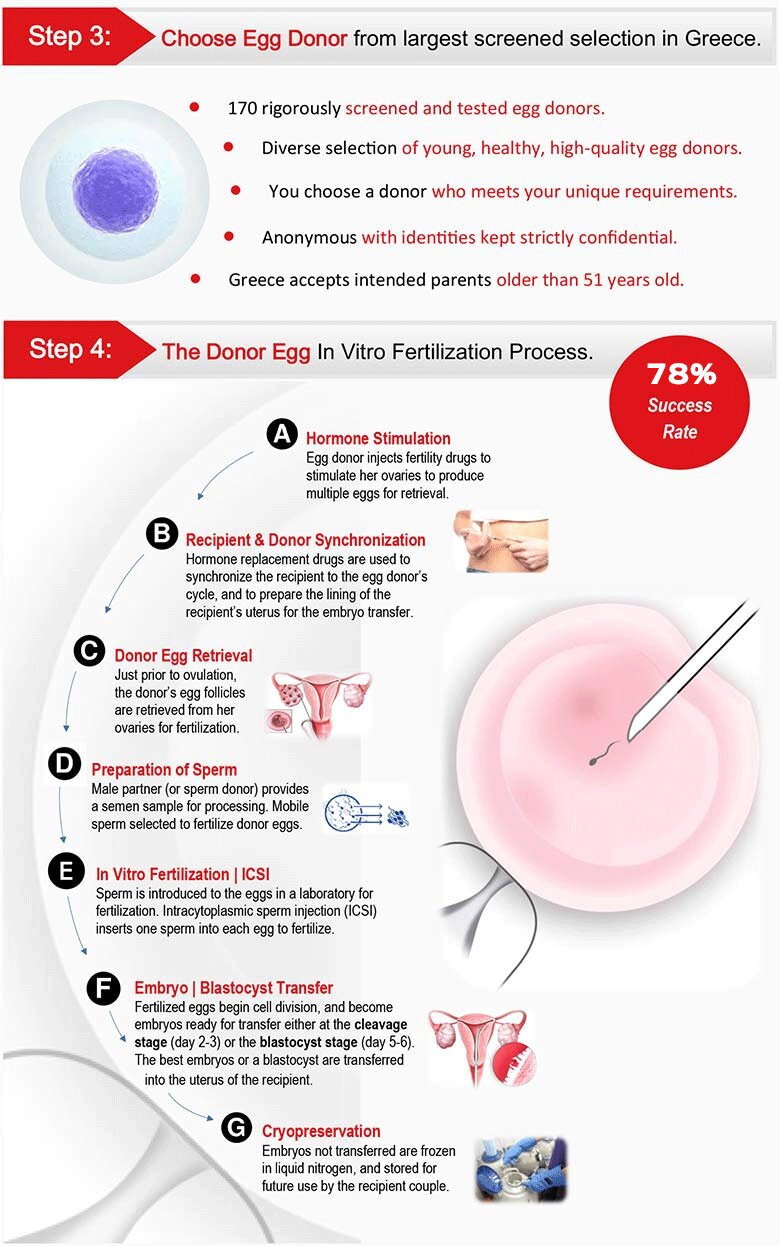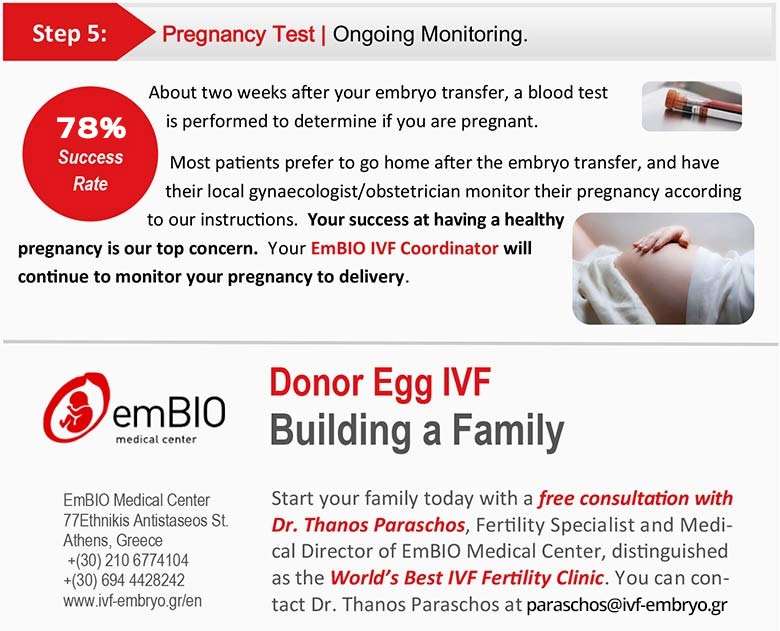 Read experiences of women who became pregnant with a donor egg