Why choose EmBIO's donor egg programme?
EmBIO fertility centre prides itself on our extensive knowledge in genetics, and how this knowledge and expertise offers benefits that are unavailable at most other IVF clinics. Every donor receives a screening from a board of certified geneticists, and patients are always given the opportunity to meet with an EmBIO certified genetics counsellor. The counsellor will talk through everything related to your treatment to help you reach the best decisions for yourself and your family.
Donor Egg IVF Success Rates (Pregnancy) at EmBIO

Year

Embryo Transfers

Clinical Pregnancies

Clinical Pregnancy Rate
per Embryo Transfer

2021
812
561
77.8%
2020
782
531
76.5%
2019
768
523
77.2%
2018
708
488
73.8%
2017
678
435
72.9%
2016
641
455
71.2%
2015
628
433
71.8%
2014
608
395
72.3%
2013
510
360
70,6%
2012
490
338
70.9%
2011
503
350
70%
2010
449
291
69%
2009
358
243
68%
2008
309
191
62%
 
Combined Sperm & Egg donations at EmBIO
Some patients choose to use donor sperm in conjunction with donor eggs; EmBIO's donor programme is a strict assessment and is designed to single out only the best possible donors for our patients. We pride ourselves on our sperm bank, a collaboration that is the world's largest provider of donor semen, with over 120 donors. The donors have diverse backgrounds, and all of them have been screened and checked over thoroughly to ensure they are perfect for EmBIO's high standards of care.
IVF with Donor Eggs
(British newspaper "Observer")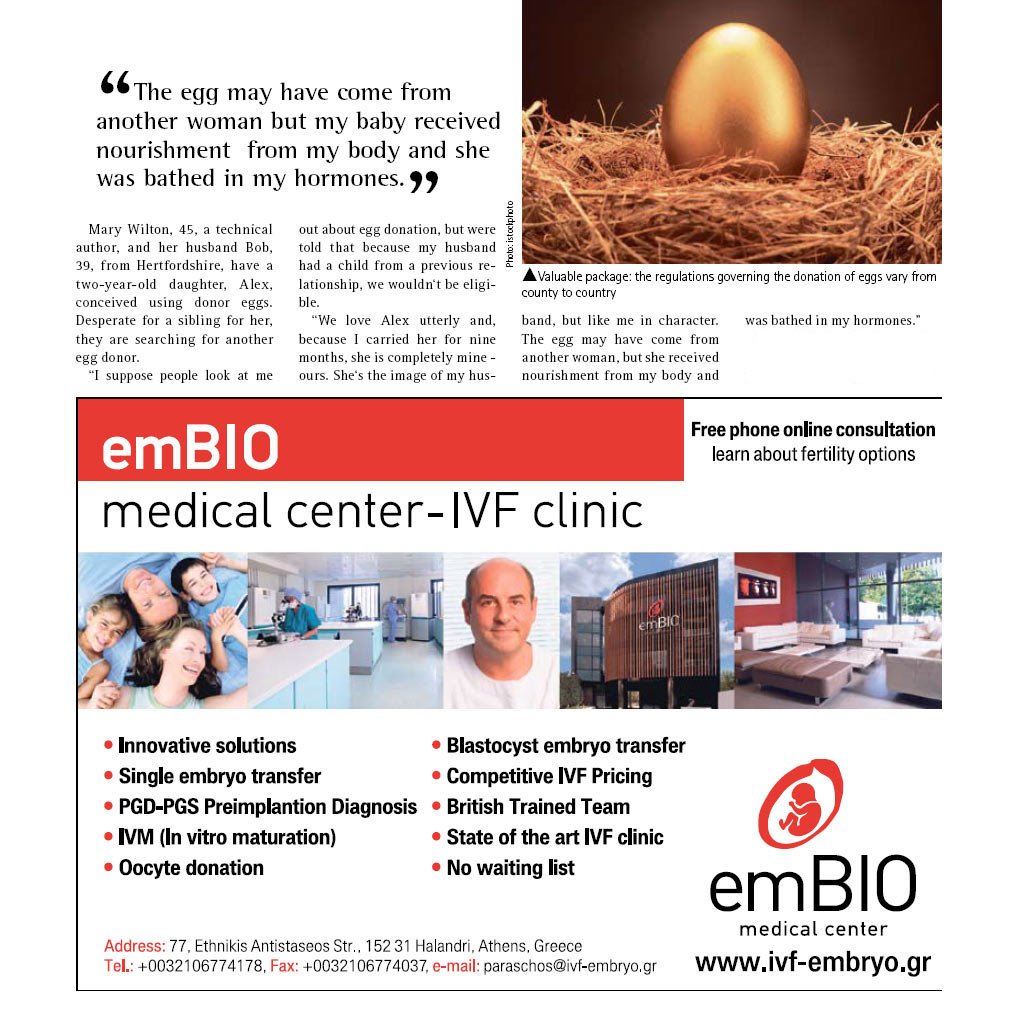 Emotional Support
EmBIO offers emotional support to all patients considering or undergoing treatment with Donor eggs. We hold a monthly IVF donor egg support group at our centre, which is facilitated by a fully licensed professional counsellor who specializes in the field of infertility. All of our patients are encouraged to attend these meetings along with their partners where they can meet other patients undergoing the same treatment, listen to guest speakers, and share their experiences, thoughts and feelings amongst couples in the same situation. EmBIO's support care also offers individual counselling sessions that are available through booking. We also have other services available for infertility support, these include massages, acupuncture and mind-body classes.
EmBIO's main goal is to provide you with the best possible treatment; our focus isn't only on bringing you success in fertility, but to help you leading up to it and afterwards with a vast amount of services to ensure that we are with you until you feel completely ready to move on with your life and your new family.
We offer our patients:
Assisted fertility
Evaluation of male and female fertility via state of the art testing
Pre-implantation genetic diagnosis (PGD) to improve the outcome of your pregnancy
Donor eggs for IVF treatment, which are available immediately without a waiting list
Donor insemination
Transferring of the Blastocyst
Recurring miscarriage prevention
Frozen donor sperm from a huge array of donors, all tested to the highest of screening standards
The storage of Embryos for future IVF treatments you may have
Andrology
Semen analysis for signs of infertility
Clinical Genetics & Foetal Diagnostic Centre
First-trimester screening
Chorionic villus sampling
Amniocentesis
Genetic sonograms
Genetic counselling
Family evaluations
For any additional information that you may require from EmBIO on any of our services or support care, please do not hesitate to call us on +30-210-6774104 or +30-6973882674 (IVF coordinators mobile) and we will call you back completely free of charge to discuss any extra information you request.
Alternatively, you can also e-mail Dr Thanos Paraschos at paraschos@ivf-embryo.gr or you can fill out the contact form on our website and Dr Paraschos will personally respond within 24 hours.