Pregnant with PCOS and a thyroid condition!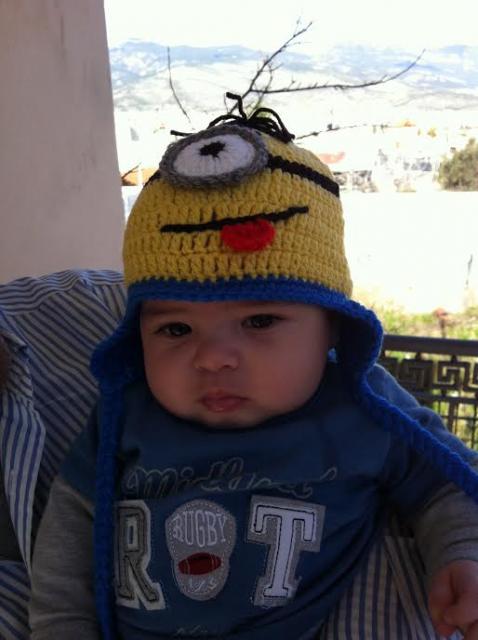 I got pregnant with no menstrual cycle!
I had polycystic ovaries and was under birth control for six years. "Since you don't have a period, it's difficult for you to get pregnant and have a child," my gynecologist had said. At that time I had stopped taking the pill for two and half years and had free intercourse with my husband for six months, almost every day, or every other day. My period came all of a sudden after 4 months and only once. And so in the beginning I didn't realize I was pregnant. I hadn't menstruated for three months. And then I only had one single drop of black blood for one day and I conceived! And never saw any blood ever since. I conceived a child with no period!
The hCG test was wrong!
I had had an hCG test with another doctor, and had come out with a wrong result. I have a thyroid condition and I had a thyroid scan. As soon as I did the scan, I started vomiting. On the first couple of days, I thought it was the Thyroid scintigraphy. But the vomiting wouldn't stop. So here I was taking the hCG test once again two weeks later. There had been a lab mistake. I was pregnant.
You have to have an abortion!
I go to my gynecologist, I'm telling him I'd had a thyroid scan, he examines me and finds that indeed I was pregnant. He closes the monitor, so I wouldn't be able to see the baby, and turns to me and says: "We need to arrange for the abortion."
My eyes are full of tears. Because I had the thyroid scan and the scan drug had entered in my system (something like radioactive iodine), he said that the child would be affected. As we learned in the process, the amount of radiation was the same as when you put the mobile phone to your ear. I had a feeling that the child as healthy as could be. Whatever it is, I want to go ahead and have a nuchal translucency, I said. "I will not take that risk," says the gynecologist. "Either you have an abortion, or go find another doctor."
Pregnancy after a Thyroid Scan
I looked for another obstetrician and found Dr Paraschos. I emailed him the thyroid test results and asked him what I should do from then on. We set up an appointment after 2 days. After he examines me, he goes, "In taking over now, and there's no way anything happens to the child!" He just saw me quite often, to check the baby's development. Every week we had an ultrasound, whereas normally, I would have had it once a month. After we did the NT and saw everything was OK, I calmed down.
Motherhood is the best thing in the world
I felt complete. I cannot describe this feeling. Amazing moments, very strong emotions. And to think the other gynecologist wanted me to have an abortion! And now I see my boy and say: "Dude, you're a joy to us all!"
After birth my polycystic ovaries were gone!
I kept my child. I heard not my mind, but my heart. After giving birth I now have a normal period. And I do not have PCOS anymore. Birth helped with the thyroid, too. It got smaller.

During pregnancy every 45 days I was tested for my thyroid levels. Since the 8th month my thyroid reached normal levels. "To stay there, it is advisable to keep taking the pills," my doctor told me. Anyway, pregnancy eventually changes everything. Pregnancy hormones do wonders.
Greece