High Success Rates in Fertility
The Highest Success Rates in Fertility are our Answer to Your Hopes of Having a Child
Dear Future Mom,
Can you think one year ahead, when you'll be holding your child in your arms after a successful fertility treatment?
Chances are that your dream of pregnancy will come true. For us here at emBIO, infertility is just the result of 'something' we so often track down and take care of.
Whether you've let years go by before you felt ready for motherhood, or you've tried before and failed, the truth is...
Today's scientific knowledge and breakthrough technologies in assisted reproduction leave no real reasons why you can't be a mother!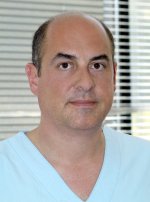 The question is:
How would you like to be one of more than 2,000 women who solve their infertility problems each year at emBIO?
At emBIO Medical Center, one of the largest and best-equipped fertility centers in Europe, 50 medical and scientific specialists will provide all it takes for you to live the joy of maternity. Problems like age, endometriosis, premature menopause, or your partner's sperm deficiency are just obstacles we'll remove, so that your child can be born.
Regardless of whether you come as a couple or a would-be single mother...
In just a few days, we'll determine and use the best combination of the latest and conventional fertility techniques. Then you'll be ready to start planning your new life as a mother.
In the meantime, we'll be monitoring your progress in pregnancy through ultrasound scans transmitted in strict confidentiality, by our associates all over Greece, or your obstetrician/gynaecologist back home.
Now, with the highest success rates guaranteed by emBIO's medical and scientific team, the choice to have a child is practically yours.
I'll share a little secret:
Our world-acknowledged success rates in assisted fertility have a lot to do with the personal relationship every patient has with her doctor or assigned nurse here at emBIO.
For starters, you can ask me any questions you may have on how you can conceive your child.
Please fill out this contact form, and I'll personally contact you within the next 24 hours.
Best Regards,
Dr Thanos Paraschos
EmBio Director, Infertility – IVF Expert
P.S. Watch our videos to see how things have turned out for couples who have entrusted us with their most precious dream of parenthood.