Collaboration with Kypros Nicolaides, Father of NT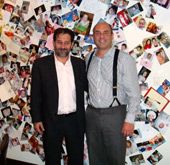 EmBIO Medical Center collaborates with Professor Kypros Nicolaides, Professor of Fetal Medicine at King's College London. Their scientific collaboration gives the chance to medical students of King's College in London specializing in Assisted Reproduction Technologies to shadow Dr Paraschos' fertility team at EmBIO throughout advanced and regular IVF procedures.
Professor Kypros Nicolaides has founded and directs the Fetal Medicine Unit at King's College, the first of its kind in the UK. He has  contributed over one thousand peer-reviewed journal articles.
The Father of the Fetal Nuchal Translucency, Professor Nicolaides keeps shedding light in the field with recent studies, such as "Is High Fetal Nuchal Translucency Associated with Submicroscopic Chromosomal Abnormalities by Array CGH?" published in the "Ultrasound in Obstetrics and Gynecology" in 2014.
Fertility Studies and Announcements by Thanos Paraschos