About Our Donors
Ensuring the availability of a large group of carefully screened donors and empowering patients to choose their own donor are the cornerstones of EmBIO's donor egg IVF program. EmBIO matches its donor pool to the diverse ethnicity, talents, educational background and interests of its patients. With approximately 170 fully screened donors, you can choose the donor who is right for you. Extensive information is provided on all of EmBIO's donors and you–not the program–select the donor you want to help you build your family.
2008-2018 Donor Egg IVF Success Rates (Pregnancy) at EmBIO

Year

Embryo Transfers

Clinical Pregnancies

Clinical Pregnancy Rate
per Embryo Transfer

2018
708
488
69%
2017
678
435
68%
2016
641
455
68%
2015
628
433
69%
2014
608
395
65%
2013
510
360
70,6%
2012
490
338
69%
2011
503
350
70%
2010
449
291
65%
2009
358
243
68%
2008
309
191
62%
 
EmBIO's donors are healthy women ages 19 through 33. They are college-educated and have good family health histories. Only a very small percentage of donors who apply are actually accepted into the program.
Searches may be focused based on specific criteria, including ethnicity, physical characteristics, educational history and other characteristics. New donors are added to the donor roster frequently.
Information to Help You Select A Donor
Knowing how important the choice of a donor is to our patients, EmBIO provides patients with extensive information about individual donors, including:
Audio interviews
Blood type
Ethnic background of donor's mother and father
Height
Weight
whether pregnancies have been achieved
Body build
Eye colour
Hair colour and texture
Years of education and major areas of study
Occupation
Special interests
Family medical history
Essays by donors
IVF with Donor Eggs
(British newspaper "Observer")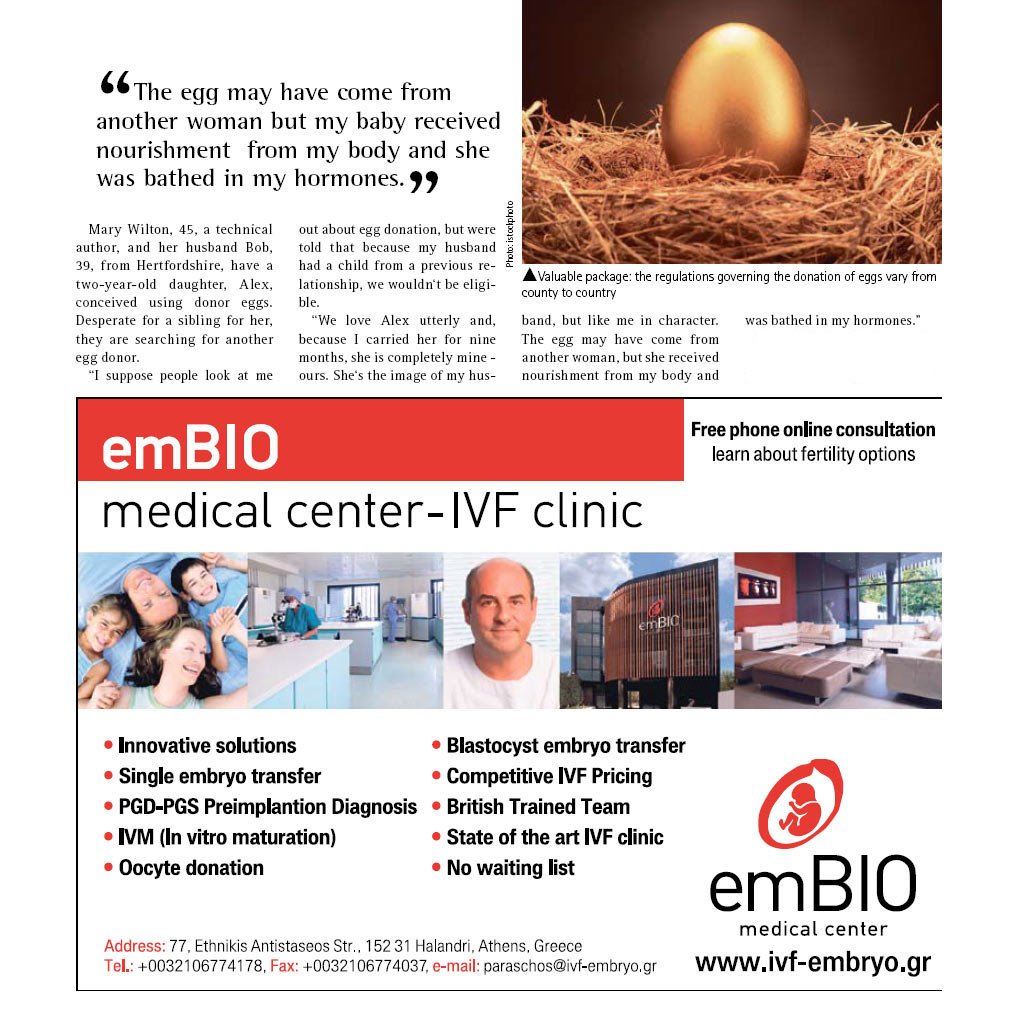 I got pregnant with a donor egg!
Success Rates for Donor Egg IVF
Make your Appointment for Donor Egg or Donor Sperm IVF